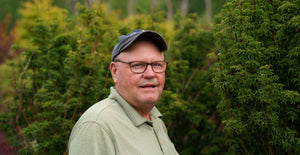 "Four score and Seven years ago" well maybe he's not that old. I've recognized several of my employees over the last several years. I really enjoy paying tribute to those who have meant so much to this business. Enter the consummate sales person Rick Sotherden. Rick came to us 13+ years ago from a corporate entity that didn't necessarily value people or plants.  When I first sat down with him there was talk of drinking the kool aid. Not from me…
Rumors spread far and wide of this man called Rick and just how good he was. I had to experience this for myself. After 13 years I say "enough". Hardly, more like Rick is saying enough, or minimally let's slow this down a bit.
He is truly a career professional in the horticulture industry. The rapport he has built with customers, suppliers, and fellow employees has been outstanding. I do feel there is significantly more work to be done with his relationship with his boss. I've often referred to him as one of the two old guys in the balcony for The Muppets.
 Although the above is all accurate, let's hit the important stuff. When I hired Rick it was to sell. In fact he had to change course a bit as our clientele were a bit different. I will not get into the nuances but will say that Rick hit the ground running in his approach to our customer base. It took a bit of  getting used to, but he simply did what he does best, sell.  
What I did not realize, this package included someone who was a resource for me relative to the business. I welcomed his opinion on products, people, and all things Plant Detectives. Through multiple bumps in the road he has remained constant and willing to share his knowledge with fellow employees. Over the years Rick has been a source of teaching and knowledge to many that have passed through these doors. This spring we had a little upheaval and without being asked Rick stepped in with some of our newbies, truly guiding them through the processes. In a sense I saw an invigoration relative to this new adoptive role. 
We have spoken over the past several years regarding his retirement. I had been pushing for immediate, he wanted to prolong it. Truth be told, my actual words to Rick have been "I will gladly have you here for as long as you choose and in the capacity that suits you best". Rick is one of those people that I will truly miss for all he brings to the table. I would be remiss if I did not mention that Rick tells his customers we close at 330. Actually if it meant staying late to get a customer loaded he would get it done. Please don't share that with too many people.
My employees have long been a source of great pride. I have been lucky to have the privilege of working with Rick for these many years. I look forward to having him here for as long as he chooses to remain.
Rick, thank you is not sufficient, but I'll say it anyway.