You may be familiar with winter preparation for your landscape, but we'd like to offer a refresher. Follow these tips and start the spring season strong.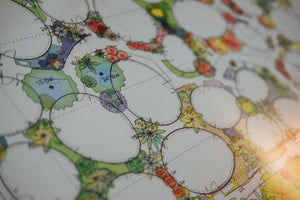 Planning
A good landscape always begins with a good plan.
Did you know that southwest exposure heats the leaf surface of broadleaf evergreens, even during winter? As a result, the plant cannot take-up moisture through the root system, leading to plant loss.
Do you like using plants that push the boundaries of a Plant Hardiness Zone? If so, it's important to plant them in areas protected from harsh winter winds. The additional protection could be the difference between the plant thriving or dying once the cold comes.
Understanding what plants can and cannot tolerate, then planting accordingly, goes a long way toward making sure they survive harsh weather.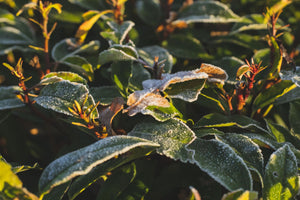 Moisture
Keeping plants moist during the colder months is important. This is especially true for newer plants that haven't had time to establish themselves.
A 2" layer of mulch is an effective way of keeping moisture around the root system. Mulch can damage the stem of certain plants, however, so keeping the layer less than 3" in height is important.
Products such as Wilt-Pruf and Vapor Gard work well to prevent moisture loss from foliage. Two to three applications during the winter should be adequate. These products don't always "play nice" with certain plants, (Wilt-Pruf has discolored a blue spruce or two) so always read the label before application.
Whenever possible, try to water all new plants going into December and as weather allows through spring. This is especially important following an unseasonably dry fall.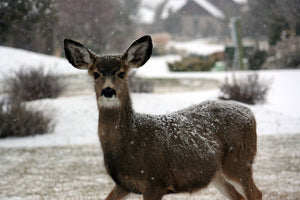 Deer
As food becomes less available during colder months deer often turn to trees and shrubs. If you've planted tasty options, this could be detrimental to your landscape. Burlap can be an effective deterrent but some find it obnoxious to look at. Deer netting is less of an eyesore and can be equally effective. 
Deer repellent products also protect against browsing damage. Rain and snow can reduce their effectiveness so re-application is essential. 
Deer damage isn't limited to eating; bucks use trees to rub felt off their antlers in late fall/winter. Application of a cardboard or plastic guard is an effective way to protect your shade and ornamental trees against rubbing.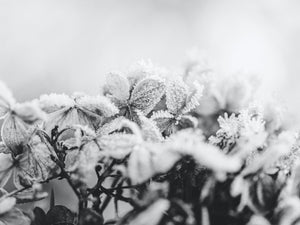 Pruning
We're often asked whether to prune back plants before the weather changes. Our typical response - defer to your personal preference.
Do you like how certain plants look during the winter months? Perhaps you believe spent foliage provides extra protection from the elements. Maybe you prefer a clean look and always prune down to the ground. Either way, rest easy knowing your plants will be fine when spring comes.
Hydrangea lovers, however, need to understand pruning's impact. Almost all Hydrangea paniculata tolerate hard pruning in the fall or spring. Even if pruned in late spring they'll still produce beautiful blooms. Popular paniculata hydrangeas include Limelight, Bobo, Quickfire, Firelight and Vanilla Strawberry.
Hydrangea macrophylla are more involved. Old traditional hydrangea such as Nikko Blue won't bloom if pruned in the spring. That's because Nikko Blue blooms on old wood and should always be pruned back before winter.
We hope you'll find these tips helpful as you prepare your landscape for winter. Remember, proper execution of the initial landscape is the key ingredient here.